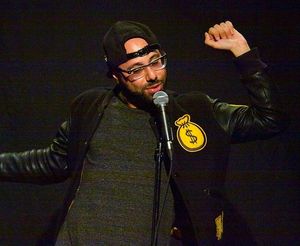 Dave Merheje is considered to be one of the most original stand-up acts on the comedy scene today. His multiple award-winning act has gained a loyal following across in North America with his "no fear" approach on stage and a comedy style best described as aggressive in-your-face funny. Dave had his first comedy special air in Australia on ABC2, and has made appearances on Comedy Network's Match Game, was a regular contributor on MTV Live, recurred on CBC's Mr. D, and he co-stars in the comedy series Ramy on Hulu. He Co-starred alongside Daisy Ridley in the movie Sometimes I Think About Dying which premiered at the Sundance Film Festival on January 19th, 2023. 
As a stand-up, Dave won the Just For Laugh's 2011 Homegrown Comic Competition and NOW Magazine's 2011 Best of Toronto Award for Best Male Stand-up. In 2012 he was a part of the NBC Standup for Diversity tour, and a Canadian Comedy Award-nominee for Best Stand-up. In 2013 he was nominated for another Canadian Comedy Award, this time for best taped live performance, and was a finalist at the Seattle Comedy Competition. Dave has made multiple appearances at the Just For Laughs Festival in Montreal, JFL42 in Toronto, Winnipeg Comedy Festival, the Halifax Comedy Festival, the Melbourne International Comedy Festival in Australia, and tours clubs and theatres regularly. In 2018 Dave released his comedy special "Good Friend Bad Grammar" which is available on iTunes and Amazon Prime, and won the 2019 Juno Award for Comedy Album of the year. His Netflix Comedy Special "Beautifully Manic" is part of Comedians of the World. And more recently he filmed a special called "I Love You Habibi" that is streaming on Crave in Canada. 





Awards + Accolades
Co-star in the movie "Sometimes I Think About Dying" which premiered at Sundance Film Festival in 2023
Crave Comedy Special "I Love You Habibi" 
2019 Won for a JUNO for Comedy Album of the Year for Good Friend Bad Grammar. 
Co-star Golden Globe Award Winning TV series Ramy on Hulu
Cast Member on Mr. D on CBC
Netflix Comedy Special "Beautifully Manic" as part of COMEDIANS of the World
Appeared on Kevin Hart's LOL Network
Regular contributor to MTV Live
Appeared on CBC Radios The Debaters and LOL
Finalist for NBC's Stand-up for Diversity Search
Finalist in the 2013 Seattle Comedy Competition
Winner of NOW Magazine's Best of Toronto Award for Best Male Standup
Winer of the 2011 Just For Laughs Homegrown Comic Competition